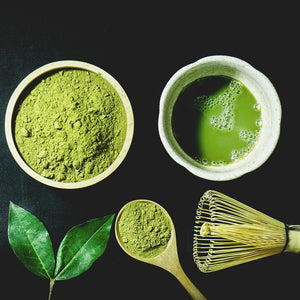 Matcha is the quintessential part of the centuries old traditional Japanese tea ceremony. Matcha comes in different quality grades from culinary matcha, to premium matcha to ceremonial grade matcha. Ceremonial grade matcha is the highest quality green tea powder available. It is made from the youngest shade grown tea leaves, with the stems and veins entirely removed. The leaves are stone-ground, which makes the matcha suitable for a thick-style tea.
Featuring a vibrant green color with a smooth, refreshing, slightly sweet and mildly rich flavor, with a silky texture. It makes a delicious tea!
Contains Caffeine
Traditional instructions for preparation:

Daily serving size: 4 oz tea.

Warm the matcha bowl by adding hot water. After a minute, discard water and dry bowl thoroughly.
Rinse bamboo whisk to keep tea powder from sticking.
Using a traditional bamboo spoon, add 1.5-1.75 spoonfuls of powder (1 regular tsp) per 4 oz serving
Add approximately 4 oz of hot water (175-180 deg F). Do not use boiling water.
Mix briskly with bamboo whisk until all lumps are removed and tea is smooth and creamy with a fine foam on top. Drink and enjoy!
Contemporary instructions for preparation:
Daily serving size: 6 oz tea. Use 1 tsp. of matcha per 6 oz of water.
Pour hot water (175-180 deg. F) over tea. Do not use boiling water.
Steep 2-4 minutes.
Serve immediately.