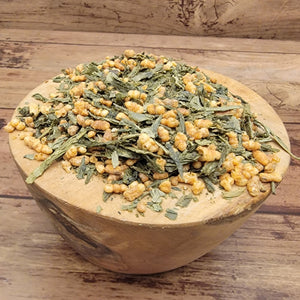 A traditional combination of freshly harvested green tea leaves with roasted brown rice creating a mild, toasty aroma and warm, nutty flavor. The soothing taste of Spring in the leaves, and the nutty flavor and aroma of roasted grain that's reminiscent of Fall, complement and enliven each other. A most delicious tea served hot or cold, it's great for early dining and well-suited for afternoon dishes.

Ingredients: Organic Green Tea (Camellia sinensis) and Organic Roasted Brown Rice (Oryza sativa).

Steeping Instructions: Pour 8 oz of simmering water (185-195° F preferred) over 1 tsp. of tea. Steep 3-4 minutes.

Contains caffeine.
Per 2 oz tea, you get approximately 20 cups of tea.

*Tastes are different. The steeping instructions are recommendations, but we suggest
experimenting with different steeping temperatures to find your preferred tea taste.
Depending on the water quality boiling the water may be advisable. You can let the water
cool to the desired temperature.